Looking to plan your next virtual meeting?
The UF Conference Department is certified by the Event Leadership Institute (EIC) and Meeting Professionals International (MPI) in Virtual Event & Meeting Management.
Our team of event managers can help you successfully plan and execute your virtual events, whether it be selecting the right virtual platform and streaming services, managing online speaker presentations, event rehearsals, technology support, sponsorship packages, coordinating virtual poster sessions, and creating communication strategies to help better engage your virtual audience. Connect with our team today to start planning your next virtual meeting!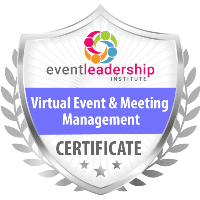 Complimentary Services
(*For UF entities only)
Standard Registration Page
We will provide a standard registration page that can be linked from the homepage of your conference website.
Registration Services
We provide excellent customer service to participant inquiries; securely receive and process credit cards, checks, and EFTs; create and enter registrations into our database; prepare deposits; process cancellation refunds; and track accounts receivable.
Online Report Access
We will provide you access to online reports that will allow you to monitor your finances as well as keep track of participant registration.
Budgeting
We develop a detailed budget based on your input and desired outcome. After you have had an opportunity to review the budget, it will need to be signed by your Dean or Department Chair in order for it to be entered in our system and a program number generated for your event.
Hotel Contract Review
If you have already selected a venue and negotiated a contract, we will review and sign the document for the University of Florida. If someone other than a designated representative of the University of Florida signs the contract, then the individual who signs the contract is personally liable for the contract.
Program Closing
At the conclusion of your event, we will help you close the program and move any residual money to either a new program or to one of our Program Development Account.
Additional Services
Please click on the following link, Conference Planning Task List, to review and select the types of services you would like to receive a quote for.